Walking in the Steps of Jesus
Have you ever wondered what it would be like to walk in the footsteps of Jesus?

We had the absolute privilege of doing just that for 10 days after Easter with Dr Peter Walker who is a professor of biblical studies and a world expert on the Holy Land. He took us to many sites associated with Jesus' ministry in Galilee and Jerusalem and masterfully uncovered layers of history to let us experience each contrasting area as Jesus and his disciples would have done 2,000 years ago.

We literally walked on his steps up to the temple in Jerusalem where he would have been taken by his parents as a baby, where he lingered as a boy and where he went as an adult to turn the tables of the money changers and to face his execution. We walked in the hillsides around the beautiful Sea of Galilee where Jesus healed many and taught them about the kingdom of God. It was a worshipful experience and not just a tour as we sang 'When I survey the wondrous Cross' at the place of Jesus' crucifixion and we shared communion on the shores of Lake Galilee where Jesus prepared breakfast for his disciples after his resurrection.

Reading the bible will never be quite the same as now we can visualise the road from Jerusalem to Jericho, we can picture the house in Nazareth where Jesus grew up and we have walked the route Jesus took on that first Palm Sunday from the Mount of Olives into the City of David as the people declared him their King.

The challenge is for us to make him king of our lives and, in the words of the old hymn, which we sang while in a boat on Lake Galilee, to trust him:
Will we continue to follow in the footsteps of Jesus now we're home?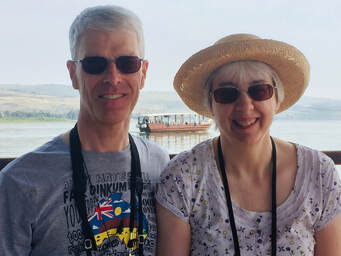 Ruth and Martine Somerville have been part of The Belfrey for over 30 years. For the last six years Ruth has worked as Matthew Porter's PA.